About the Studio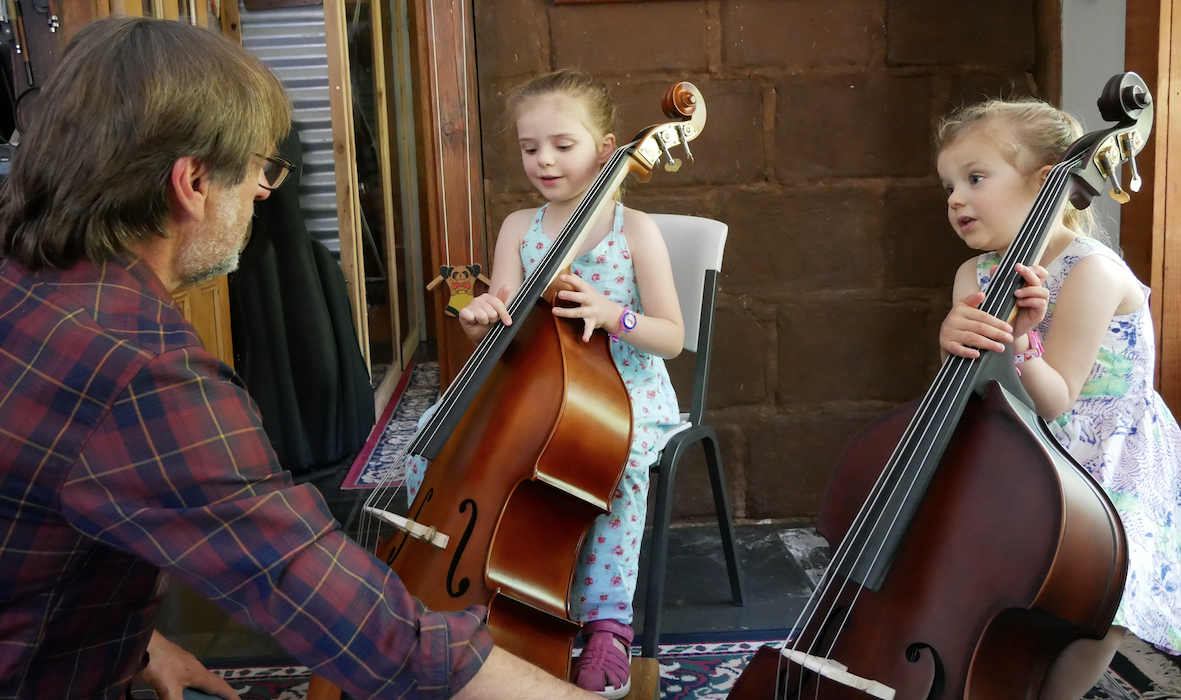 "The Bassworks Studio is a truly exceptional venue with ample light and space within and around it, and is deeply imbued with the quintessence of music-making as well as the presence of the most glorious collection of instruments one is likely to encounter." Jeff & Orielle
"I enjoy the drive up the hill to the trees and garden produce that surround the pretty music studio." Sara
Peter McLachlan provides double bass tuition in various styles for all age groups. He also caters for AMEB exam preparation, has recording facilities, conducts regular studio recitals and concerts, and runs a 4-day annual double bass workshop with international guest teachers and performers.
LOCATION
The character timber and mud brick studio is located in Belair, in the Adelaide Hills, a 20-minute drive south from the city. It is on the 196 and 194 bus route, and near the Pinera train station on the Belair line.
LESSON STYLE & PRICING
Group Lessons
Group lessons are available at the BassWorks Studio for students who are 5 and older. The group lessons consist of up to 4 students and parental attendance is essential for students under 12 years.
Group lessons, while sometimes chaotic are a great, affordable way to learn bass. The students are encouraged by their peers' success, and healthy competition between students also motivates speedy progression.
Click here for a blog post Peter McLachlan wrote about group classes.
Cost: Lesson cost is $15 per student for a 40-min group lesson. Lessons are charged by the 9-week term.
Method: The Developing Bass Player and the George Vance Repertoire Books
Individual Lessons
Individual lessons, for those who would prefer one-to-one tuition, are offered to all ages, with repertoire and resources adapted to suit the student. Parental attendance is essential for students under 12.
Cost: Lesson cost is $35 per 30-min individual lesson. Lessons are charged by the 9-week term.
Orchestral Experience Classes
Orchestral experience classes are for advanced students only. Included in the cost is a 30 minute class each week and a 2 hour rehearsal with an orchestra. More information can be found here.
Cost: $35 for a 30 minute individual lesson per week, charged over a 9 week term.
VIRTUAL LESSONS WITH ETIENNE LAFRANCE
Virtual lessons are available with Etienne LaFrance. These are conducted via video (filmed on phone or tablet etc). Students send a video of themselves playing to Etienne, and Etienne, views, takes notes and responds with his own videos. We encourage students to include their regular double bass teacher in this process by sharing the videos with them. 
CAD $70 per hour of Etienne's time, payable by PayPal direct to Etienne.
DOUBLE BASS HIRE
Students at the BassWorks Studio receive a 50% discount on double bass hire, $110 per term.
Please see our double bass care guidelines for hire instruments.
Please contact us on 8278 2016, or info@bassworks.com.au to register your interest in double bass lessons.
BOOK THE STUDIO
The BassWorks Studio is available to students who are looking for a new instrument and want to try our range with the help of their instrumental teacher. Bookings are free of charge, 1 hour long, and available on Wednesdays and Thursdays. Please complete this form to make a booking.