"These are the things that I enjoy about my bass lessons:
the drive up the hill to the trees and garden produce that surround the pretty wood music studio.
learning music surrounded by other double bass instruments – each unique in their form and colour.
Peter's insightful instruction – gentle correction when needed, reassuring, encouraging.
leaving each lesson motivated and with a sense of musical purpose.
learning skills by playing music rather than drills.
connecting with other players and teachers through the bass workshops.
appreciating the varied repertoire and the ways in which each person makes the instrument their own.
listening, learning, playing with leading international double bass players at the bass workshops.
feeling part of a community of people/musicians who play and love the bass.
As a beginner double bass player, Peter McLachlan's lessons and program of concerts and workshops inspire me at many levels. The enjoyment is more than developing the skills to play double bass well; it is the musicianship, the voice of a tremendously expressive musical instrument and feeling part of an international bass-playing community."
Sara (adult student)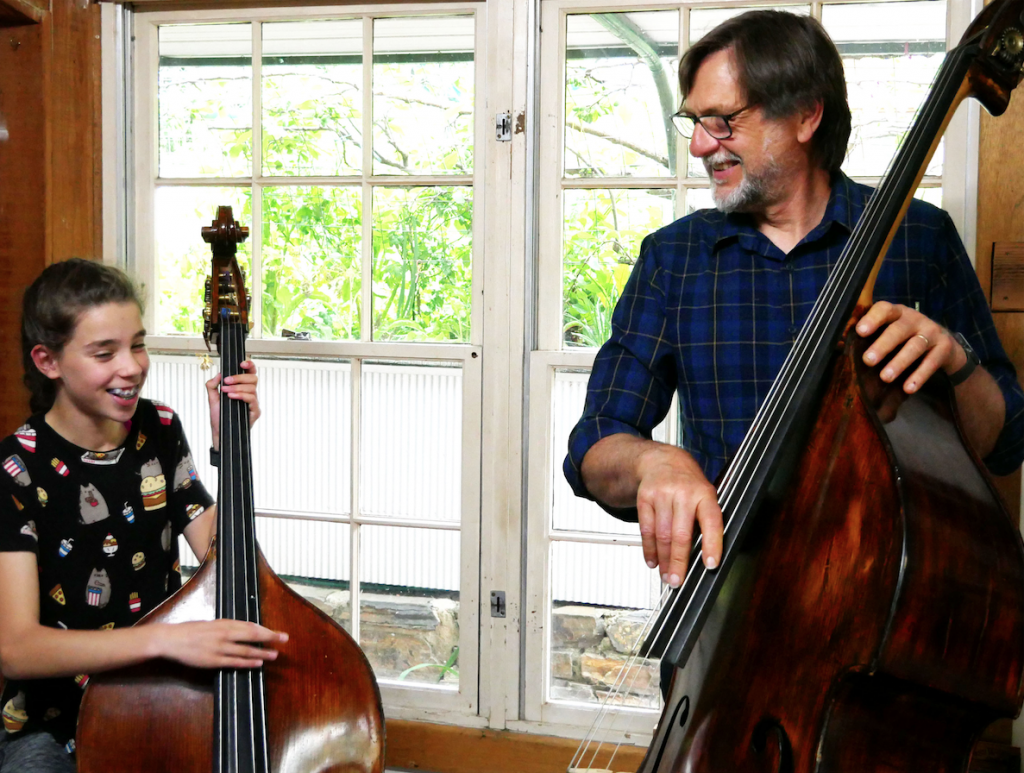 "Just to let you know Zoe performed exceptionally on the Bass at the school concert.  She had an 8-note solo at the beginning of one number, and smashed it out of the hall.  I am sure she will tell you all about it in the time I am taking the bass out of the bag and she is giving you the run down a mile a minute!
Peter teaches music with a passion and humour rarely seen in music teachers.  Peter is kind, patient and it amazes me how much he can get out of my daughter in a half hour session.
The program is set at a level that is achievable for my daughter, but also stretches her allowing her to continue to master the Double Bass.  When Peter is sure that she can master the piece with more practice in her own time, he will move onto the next one, keeping her engaged and supporting her eagerness to learn.  This allows her to "show off" her achievement in the next lesson, teaching her the valuable life skills of perseverance and satisfaction that if the work is put in, the achievements are never ending."  Louise (Parent)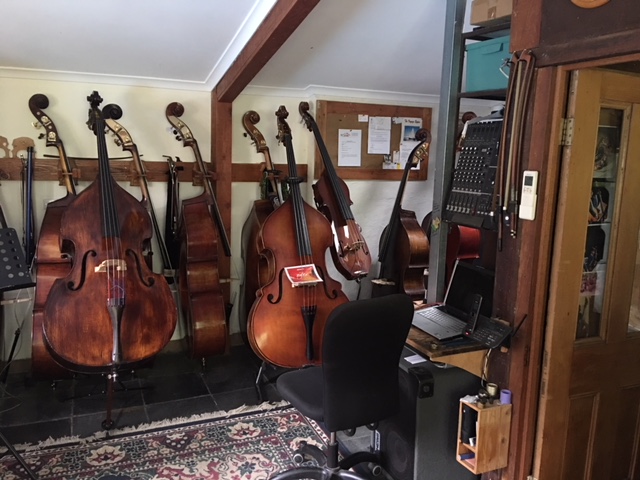 "It would be impossible to overstate our endorsement of Peter and Bassworks as the pre-eminent resource for all matters pertaining to the double bass. Adelaide is indeed lucky to have him.
His talents as an instrument maker contribute to his unique capacity as an instructor, wherein he integrates the physics of sound, the structure of instruments, the mechanics of playing, and the theory of music all into a comprehensive learning experience.
His versatility enables him to tailor his approach to each individual and offer alternative explanations and perspective as necessary, to accommodate student needs. We have observed Peter several times at the annual BassWorks workshop and have been amazed by the degree to which he develops a personal connection with each participant independent of their age or musical proficiency."
Jeff (Parent)