In our Belair workshop we repair, restore, modify and maintain a large range of stringed instruments.
Repairs are charged at an hourly rate. Please contact us for an assessment and quote for your instrument. As an example, double basses with broken necks are one of the most frequent breakages we repair. A broken double bass neck typically costs around $385 to repair.
BOW REHAIRING                                                                                                                                       
At Bassworks we rehair all stringed instrument bows. For Violin, Viola and Cello Bows we use first-grade white horse hair, and for Double Bass Bows you can choose from white, black, or chestnut hair.
Violin, Viola  and Cello Bows  are rehaired at $100 per bow.  The charge to rehair a Double Bass Bow is $110.
If you live in Adelaide you can bring your bow to our Belair workshop, where we usually rehair on Wednesday each week.
Interstate customers can post a bow to 30 Gloucester Avenue, Belair, SA, 5052.  It will be in the return post  on the following Thursday or Friday. If you would like to arrange this, please call  08 8278 2016 or email:
info@bassworks.com.au.
REPLACING THE TIP ON A BOW
Below are photos of the process of replacing the tip on a Cello bow. This is a repair we do frequently on a variety of instrument bows. On average, this repair costs between $200 and $300. Well worth doing for a good bow.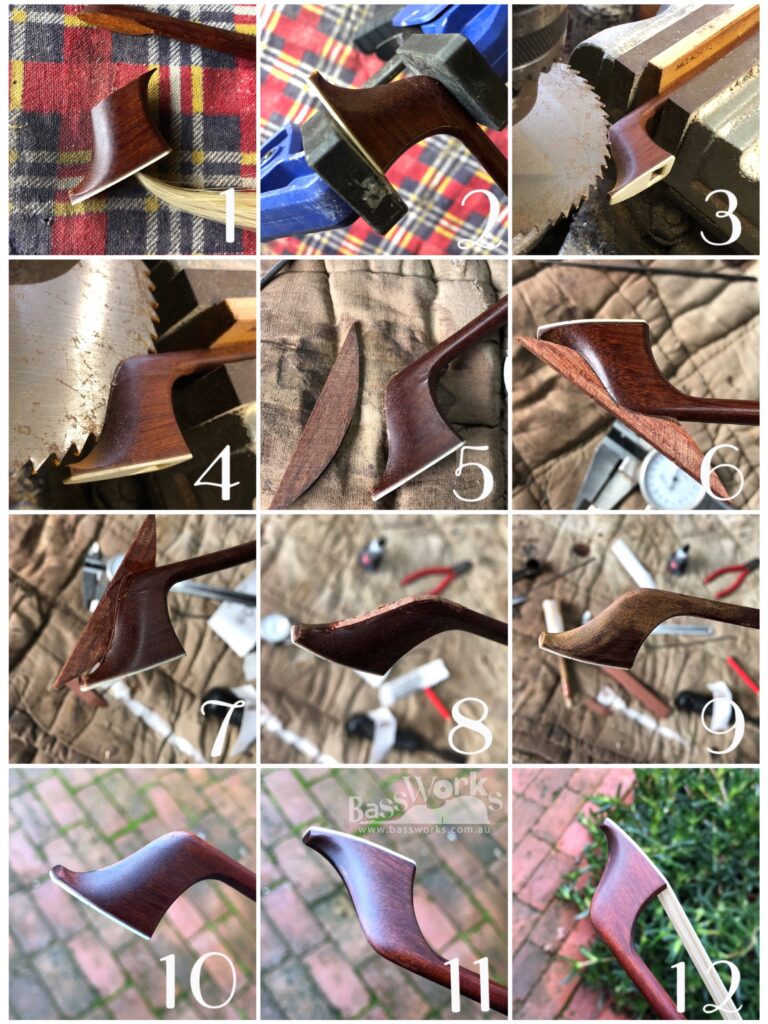 Check out our instagram to see what our luthier, Ben McLachlan, is working on now…