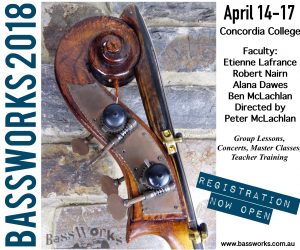 Cost:
Full Participant: $420
Full Participant + Teacher Training: $550
Auditor: $55 (per day)
*Each full participant fee includes 1 free ticket to Etienne Lafrance and Rob Nairn in concert with the Burnside Symphony Orchestra.
Please complete the registration form below, and return with your payment.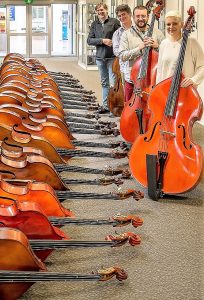 The Workshop
Four days of small group lessons, masterclasses and concerts for double bass players of all ages and abilities.
We will be using repertoire from:
The Developing Bass Player
Francois Rabbath Volumes
George Vance Volumes.
Eligibility:
The workshop is designed to cater for all ages and abilities (beginners to advanced), and is open to all double bass players. Participants are divided into groups of similar experience and ability for the group classes. Performance in the final group performance is assumed unless otherwise directed during the workshop week. Performance in a solo recital is optional for all participants.
Programme:
Participants' daily schedule will include: a master class, ensemble/technique class, group lesson, attendance at lecture/demonstrations, a Saturday evening concert and final group performance.
Preparation:
Each student should prepare two or more polished pieces for the daily master class. It is only necessary to learn those pieces that are within your current ability (Try to have these pieces memorised).
Parents:
Parental attendance is encouraged. A parent or a designated adult guardian must accompany students under the age of 14 unless arranged in advance. There is no charge for the accompanying parent or guardian.
Auditors:
May observe all master classes, group lessons, free recitals and lectures except for the Teacher Training.
Teacher Training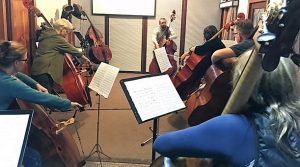 Teacher training participants attend the full workshop schedule, including small group lessons, masterclasses and concerts, and also attend a full day class on the 13th of April, along with additional afternoon sessions on the 14th, 15th and 16th which will be run by Etienne.
There will also be several morning sessions which will be led by Peter on music studio teaching. Topics covered will include:  teaching materials, group lessons, small business info and building a successful and rewarding teaching career.
Faculty:
Etienne LaFrance is a regular faculty member from Quebec, Canada, bringing an intimate understanding of the Rabbath technique to the Workshop. He is a double bass virtuoso who loves to perform and share his knowledge and technique.
Rob Nairn is former Professor of Bass at Julliard and Penn State University and now professor of bass at the University of Melbourne. He will bring his vast knowledge, virtuosic skills and warm personality to our workshop again this year.
Alana Dawes is an Adelaide performer and teacher, and former student of Peter McLachlan. She grew up attending BassWorks workshops and after completing her bachelor degree in Adelaide furthered her studies at Ithaca College, New York, with a Masters of Music Performance. After several years as a busy freelance musician in New York, Alana has returned to Adelaide and now teaches the double bass as well as regular performing and touring. She is a testament to the opportunities open to a skilled double bass player and brings energy and enthusiasm to the faculty team.
Peter McLachlan  is an active and enthusiastic educator who maintains a busy performing and teaching schedule, manages BassWorks and is also active in the restoration and building of double basses.
Ben McLachlan is an Adelaide based luthier, who will be at the workshop showing some of the basses he has made and restored. He will be available to re-hair bows and perform repairs.