Postponed Until Further Notice:
We had hoped to run our 2020 workshop in September, however the current situation is still too unpredictable to make plans. All the participants who registered for the April workshop should have received an email from us earlier this year with refund information. If you have any questions please don't hesitate to contact us.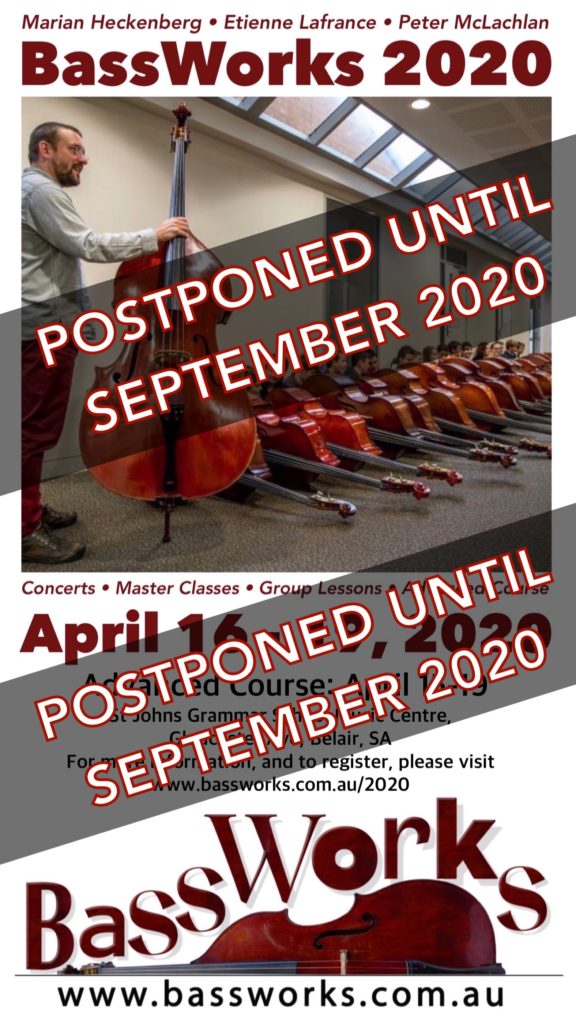 The Faculty:
Etienne Lafrance – Marian Heckenberg – Peter McLachlan
Click each name for more information.
Eligibility:
The workshop is designed to cater for all ages and abilities (beginners to advanced), and is open to all double bass players. Participants are divided into groups of similar experience and ability for the group classes. Performance in the final group performance is assumed unless otherwise directed during the workshop week. Performance in a solo recital is optional for all participants.
Program:
Participants' daily schedule will include: a master class, ensemble/technique class, group lesson, attendance at lecture/demonstrations and a Saturday evening concert.
Preparation:
Each student should prepare two or more polished pieces for the daily master class. It is only necessary to learn those pieces that are within your current ability (Try to have these pieces memorized).
Parents:
Parental attendance is encouraged. A parent or a designated adult guardian must accompany students under the age of 14 unless arranged beforehand with Peter McLachlan. There is no charge for the accompanying parent or guardian.
Auditors:
May observe all master classes, group lessons, free recitals and lectures.
Please bring your own lunch and snacks.
Advanced Course:
The Advanced Course is an option extra for advanced students attending BassWorks 2020. It will involve the in depth study of Francois Rabbath's New Technique Volume 2.
Participants in the Advanced Course will receive a full extra day of tuition, on April 15, with a morning session from 9-12, and an afternoon session from 1-4. These will be held in Belair. In addition, advanced students will have an extra afternoon session from 2:30-4 pm each day of the workshop (April 16-19).
Students will need to be familiar with the whole book prior to the workshop, including scale and arpeggio fingerings, exercises and etudes.
Participants who would like to attend the Advanced Course will need to audition. Please email a recording of Etude 21 from Volume 2 to peter@bassworks.com.au
Auditors:
May observe all master classes, group lessons, free recitals and lectures.
Fees:
Full Participant Tuition (4 days, April 16 – 19) – $425
Advanced Course (5 days, April 15 – 19) – $550
Auditors Fee (per day, non-participant) – $55
Food:
Please bring your own lunch and snacks. There is a bakery, deli, petrol station and a few restaurants a short walk away on the corner of Gloucester Avenue and Main Road, Belair, should you prefer to buy your food each day.
Regististration: Please complete and send us this form to secure your place.