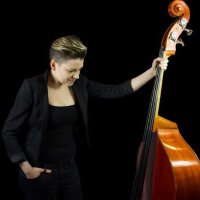 From Adelaide, Alana Dawes completed a Master of Music Performance Degree (double bass) in 2014 at Ithaca College, New York, after a Bachelor of Music Performance Degree, with Honours from the University of Adelaide (jazz performance).
Alana has been fortunate to perform alongside many wonderful and diverse musicians including Kristin Chenoweth (2014 Australian tour), and Sherie Rene Scott (USA, UK and Australia), as well as performances with Lea Salonga, Eden Espinosa, Judy Kuhn, Liz and Ann Hampton Callaway, and Australian artists such as James Morrison, Barry Humphries, Kate Cebrano, and Rachael Beck amongst many others.
Alana spent the last four years in New York, where she was active as a freelance musician; and permanently returned to Australia during December 2015. She is a member of the Adelaide Art Orchestra and a busy freelance musician and teacher. During 2015 she performed for the Australian tour of Mother, Wife and the Complicated Life the musical, written by Amity Dry with Mark Ferguson. More recently, Alana performed as the bassist for Ghost the Musical at the Adelaide Festival Theatre.