Travelling by air in Australia is generally straightforward and not costly. The rest of the world is a different story with oversize baggage attracting much higher costs.
Reducing the size of the case can make a big difference to the cost. Freight is based on the cubic volume, length x width x height. The largest dimensions, which become a large rectangular box, are used to calculate weight.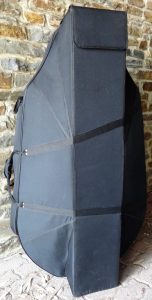 However the real advantage of travelling with a removable neck case is the reduction of damage risk. The most vulnerable area of a bass in transit is the neck joint. In this double bass case the neck is stored separate from the bass body reducing the risk of damage substantially.
Putting the bass back together at the destination is not difficult and takes approx 10 minutes at the most. It is best to practise the process quite a few times before travelling for the first time.
The sound post can be fixed in position however it is a better idea to learn how to put the post in place if it does fall. We supply a sound post setter and training with every removable neck bass we sell. Once you know what you are doing it only takes a couple of minutes. It is also a very useful skill for sound experimentation with your personal instruments.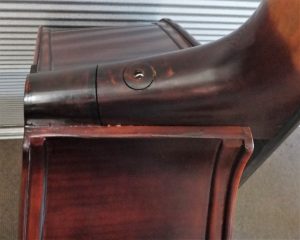 The lightweight flight case for removable neck basses has wheels and various lift straps. It is made in China exclusively for BassWorks by the DB factory that has made Double Bass lightweight cases for over 20 years.
Total case weight is 11.6 kg. Total weight with bass is 20-22kg depending on the instrument.
Lower Bout 670mm,  Upper 550mm
Body length minus button and endpin 1140mm.
Also available in 1/2 size. Cost is $880 for the 1/2 and 3/4 size or $600 if supplied with one of our basses.
Airlines musical instrument carriage policy (QANTAS & VIRGIN)
I have never had any extra costs flying with Virgin or Qantas with a double bass. I travel with a carry-on bag and check the bass in. However, it is not expensive to join one of the prescribed associations.
QANTAS
http://www.amin.org.au/wp-content/uploads/2015/04/Changes-to-Qantas-Carriage-of-Musical-Instrument-Policy.pdf
VIRGIN
Individual artists are now permitted an allowance of 32kg across three pieces of checked baggage (free of charge) and an additional 32kg can be purchased in advance for $15. Bands travelling together are also able to pool their baggage allowance across their group.
This aims to make air travel more affordable for musicians, allowing them to bring their instruments and equipment with them, rather than renting or borrowing them in each city. The deal came about following discussions between Virgin Australia and The Australian Music Industry Network (AMIN).
The baggage allowance is available on Virgin Australia-owned and operated domestic services only and must be booked or pre-purchased at least 48 hours prior to departure. Guests should not purchase any baggage when booking online. This offer applies to all new bookings and cannot be provided in retrospect, and Virgin Australia will not refund normal baggage charges already paid.
To be eligible, artists must be a member of an approved Australian music industry organisation.