Why visit Bassworks in Adelaide to buy an instrument or have your instrument repaired?
There are a few reasons…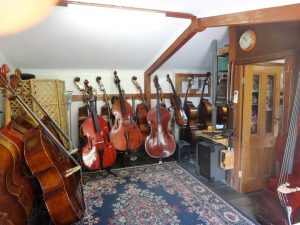 We have a large range of instruments set up ready to play. We don't just sell basses , we carefully choose them, set them up and maintain them.
Everyone who visits receives expert assistance from enthusiastic bass players/makers who value music education and the life skills it gives.
We have a quiet, one on one sales area without distractions (except for the large number of double basses and accessories).
There is not a standard size or shape for double basses – there are many variations, and not one size suits all. Hopefully with our range of instruments you will find the shape, colour and size to suit your needs and at a price to suit your budget.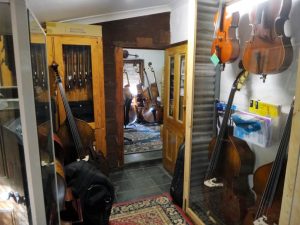 If you find a bass you like but want some adjustments made, we can usually do it on the spot or within the same day.
We also provide a fast turn around on instrument repairs.
For example:
Broken neck (no problem) generally a 2-day fix = $200 -$400
Bow re-hair = $65
New bridge =  cost of bridge blank + $120
Large stock of strings and parts
Our customers often find that the cost of freighting a bass via TNT road express or flying to Adelaide and choosing their own instrument is comparable.
Freight options:
Hard Case hire: $44 per day.
For road freight from Adelaide to Sydney return, a 6-day hire is optimistic  =  $264
Freight cost:  Return = approx $340
Insurance: $6 per $100 with TNT.  We won't ship without insurance however you can arrange your own.   Insurance with TNT for a $3000 bass = $180
Therefore, total of freight and insurance, Adelaide to Sydney, with case hire = $784.
If you choose to buy a Flight Case, prices start at $650, and so this is another option instead of hiring and paying the return freight.
Visiting Adelaide:
Flight Adelaide to Sydney return:  Same day, Virgin Airlines = $250 (on special).
Taxi from  Airport to Belair = $70
Total = $320
Generally basses fly for free on Virgin or Qantas as long as they are in a light weight flight case. Approx weight is 22kg.
You will need to borrow a light weight hard case and bring it to Adelaide or purchase one here.
If you want to extend your trip in Adelaide, there are airbnb rooms nearby in Belair: from $73 per night.
Airlines musical instrument carriage policy (QANTAS & VIRGIN)
I have never had any extra costs flying with Virgin or Qantas with a double bass. I travel with a carry-on bag and check the bass in. However, it is not expensive to join one of the prescribed associations.
QANTAS
http://www.amin.org.au/wp-content/uploads/2015/04/Changes-to-Qantas-Carriage-of-Musical-Instrument-Policy.pdf
VIRGIN
Individual artists are now permitted an allowance of 32kg across three pieces of checked baggage (free of charge) and an additional 32kg can be purchased in advance for $15. Bands travelling together are also able to pool their baggage allowance across their group.
This aims to make air travel more affordable for musicians, allowing them to bring their instruments and equipment with them, rather than renting or borrowing them in each city. The deal came about following discussions between Virgin Australia and The Australian Music Industry Network (AMIN).
The baggage allowance is available on Virgin Australia-owned and operated domestic services only and must be booked or pre-purchased at least 48 hours prior to departure. Guests should not purchase any baggage when booking online. This offer applies to all new bookings and cannot be provided in retrospect, and Virgin Australia will not refund normal baggage charges already paid.
To be eligible, artists must be a member of an approved Australian music industry organisation.