Robert Nairn – Professor of Double Bass, the Juilliard School & Penn State University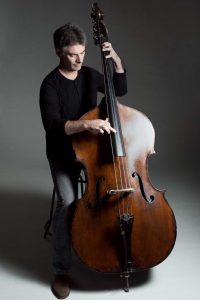 EDUCATION
Bachelor of Music, Canberra School of Music; postgraduate diploma, Berlin Musikhochschule.
Completed further studies with Klaus Stoll, Tom Martin and Max McBride.
Rob Nairn received his bachelor's degree from the Canberra School of Music and a post-graduate diploma from the Berlin Musikhochschule, courtesy of a two-year DAAD German Government Scholarship. He has lived and worked in Germany, England, Australia, and the United States. His teachers have included Klaus Stoll, Tom Martin, and Max McBride.
PROFESSIONAL CAREER
Ron Nairn is a distinguished Professor of Music at Penn State's School of Music and on the Faculty of The Juilliard School in New York. He has lived and worked in Germany, England, Australia and the United States performing with such groups as the London and Oslo Philharmonic Orchestras; the Pittsburgh, Baltimore and Gothenburg Symphony Orchestras; the English, Scottish and Australian Chamber Orchestras, the Bavarian Radio Symphony, the Melbourne, Sydney, Queensland and Adelaide Symphony Orchestras, the London Sinfonietta, the Halle Orchestra, and the London Mozart Players. Rob has played in all seasons of the Australian World Orchestra and will feature as one of the AWO's 8 double bass soloists in the 2016 premiere of Elena Kats-Chernin's commissioned concerto "The Witching Hour".
Rob is a specialist in historical performance, he has been principal bassist with Boston's Handel and Haydn Society since 2003. He is also principal bass of the Boston Early Music Festival and Juilliard Baroque. He has performed with the English Baroque Soloists, Orchestre Revolutionnaire et Romantique, Concerto Caledonia, Washington Bach Consort, Rebel, Florilegium, The Smithsonian Chamber Players, and the Orchestra of the Age of Enlightenment.
He has commissioned and premiered more than forty new works for solo double bass and chamber groups including concerti by Barry Conyngham and Doug Balliett, and he has given solo recitals in Europe, Scandinavia, China, the United States, and Australia.
He can be heard on over 60 commercial CDs and has recorded for Decca, Deutsche Grammophon, Sony, EMI, Virgin, ABC Classics, and Channel Classics.
Rob is a Past President of the International Society of Bassists from whom he received a Recognition Award for Historical Performance in 2009. He is a Howard Foundation Fellowship recipient from Brown University and DAAD German Government Scholarship recipient.