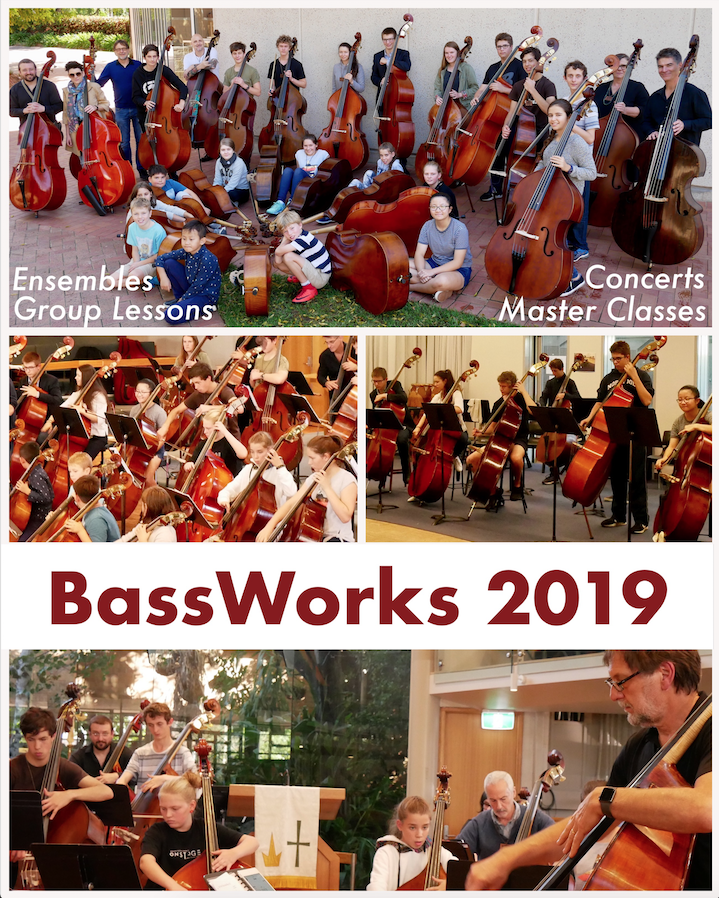 Early-bird registration is now open for BassWorks 2019! Places are limited, please register early to secure your spot, and to take advantage of our early-bird prices.
Dates: 13th – 16th April, 2019
Location: Concordia College, Highgate
Cost: Early-bird registration prices apply to all registrations received before December 14th, 2018.
Full Participant Early Bird Price: $425 $385
Advanced Course: $130 (available only to full participants)
Auditor: $55 (per day, does not apply to parents / caregivers supervising)
*Each full participant fee includes 1 free ticket to the Saturday night concert.
The Workshop
Four days of small group lessons, masterclasses and concerts for double bass players of all ages and abilities.
We will be using repertoire from:
The Developing Bass Player
Francois Rabbath Volumes
George Vance Volumes.
Eligibility:
The workshop is designed to cater for all ages and abilities (beginners to advanced), and is open to all double bass players. Participants are divided into groups of similar experience and ability for the group classes. Performance in the final group performance is assumed unless otherwise directed during the workshop week. Performance in a solo recital is optional for all participants.
Programme:
Participants' daily schedule will include: a master class, ensemble/technique class, group lesson, attendance at lecture/demonstrations, a Saturday evening concert and final group performance.
Preparation:
Each student should prepare two or more polished pieces for the daily master class. It is only necessary to learn those pieces that are within your current ability (Try to have these pieces memorised).
Parents:
Parental attendance is encouraged. A parent or a designated adult guardian must accompany students under the age of 14 unless arranged in advance. There is no charge for the accompanying parent or guardian.
Auditors:
May observe all master classes, group lessons, free recitals and lectures except for the Teacher Training.
Advanced Course
The Advanced Course is an option extra for advanced students attending BassWorks 2019. It will involve the in depth study of Francois Rabbath's New Technique Volume 2.
Participants in the Advanced Course will receive a full extra day of tuition, on April 12, with a morning session from 9-12, and an afternoon session from 1-4. These will be held in Belair. In addition, advanced students will have an extra afternoon session from 2:30-4pm each day of the workshop (April 13-15).
Students will need to be familiar with the whole book prior to the workshop, including scale and arpeggio fingerings, exercises and etudes.
Participants who would like to attend the Advanced Course will need to audition. Please email a recording of Etude 21 from Volume 2 to peter@bassworks.com.au along with your registration form.
Faculty: Etienne LaFrance, Peter McLachlan, and others tbc.